After the rear end up-grade I feel it's time to do the front end. With limited funds
I will up-grade piece by piece untill it's complete.
We all know there are several options in regards to brands of parts and keeping in mind I intend to change the front over to alloy in a step by step fashion so I decided to stick with genuine FG alloy components.
Below is a little bag of goodies that came in the mail...."thank you mail man".
As you can see it didn't take me long to yank it all out of the bag and lay it out for inspection. Note: the kit even includes 2 sets of bushes, cambered on the left and standard on the right... how good is that?
After pushing in the standard camber set bushes you can see I have fitted the rear bulkhead.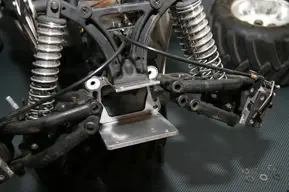 Again fitting the standard camber set bushes this shows the front bulk head fitted.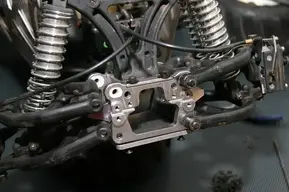 Time for a coffee.
.
.
.
.
.
.
.
Ok, this is a close up showing all the little clips and castor spaces fitted back up and it's ready for action minus the bumper.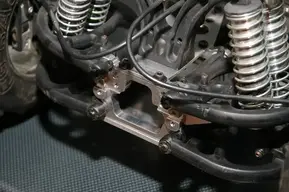 It all fitted perfectly, no filing, bending, having to go back to the supplier to spend $$$ on other bits and pieces because this & that no longer fit. basically a couple of hours and hey presto.... alloy bulkheads:2guns:
I noticed the front end feels so smooth now and with a little thread lock I am confident that the screws will not vibrate or tear out like they used to on the plastic set-up.
During my quest in finding the correct parts at a reasonable price I would like to thank Colin at Chequered flag racing
www.fgaustralia.com.au
and Kris at Daniels pit stop
www.danielspitstop.com.au
for answering all my questions regarding how to go about the up-grade.
Stay tuned for the rest of the front end.