I know I've posted my HPI 5t in a few places here. I figured I'd post up a new thread to show my build, what I already have, and future endeavors....
This is my 5T, the "Dirty Bitch".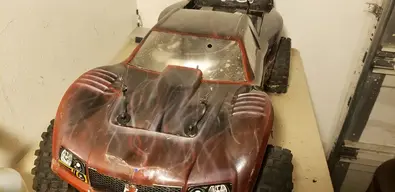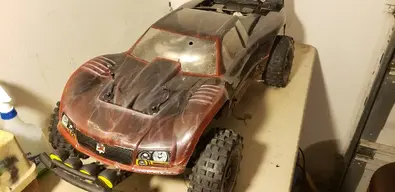 I've kept her mostly stock structurally. Despite my best efforts, the stock 5t is actually very hard to kill. I've had this rig for a long time, and she's taken a ton of abuse without any complaints.
Upgrades that I'm currently running:
Dark Soul Meaty drive shafts V2
Dark Soul Axle Extensions (with clipless hardware)
Jetpro 5t pipe
RCR Brakes
Lauterbacher Off-Road 4 Shoe Clutch
TR HD "Race" Clutch Carrier, bell and pinion (Transmission plate modified for the larger bearing)
Hostile drive boots (due for replacement now)
RPM Rear Lower A Arms
Hostile MXTs all around
Killer RC Suspension limiter cables
Killer RC Killer Bee killswitch
OBR G320RC 34cc full mod reed case motor
Walbro
990
carb
Shredhead Shredstack inclined Velocity stack
TGN Redneck dual stage prefilter
Hitec 5645 throttle servo
Hitec 5805 steering servo with DDM billet servo arm
Spektrum 4000mah LiFe rx battery
Futaba 3PKs Tx
I also have a couple aesthetic mods:
DDM Billet Gas cap
DDM Billet pullstart handle
My paint job was done free hand with an airbrush when I was quite drunk and lacking any inspiration. But to be brutally honest, the body was completely hammered when I first did it, and it's only gotten worse. I might try to rehabilitate it over the winter. If I do, I'll post it here for you guys to eviscerate!
Once I've gotten the OBR motor fully tuned, I'm looking to go bonkers with structural upgrades as I break things. I'll keep this thread updated as that initiative progresses.