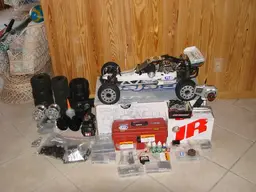 I have had my fun with the baja, time to move on to another toy. I am selling everything below as a package deal. I am not splitting anything up. I do not know how much to ask, I have alot invested , please keep offers reasonable. I will only ship to the USA. The Baja, runs great and is good condition. No Problems. Please Email for pictures and questions
[email protected]
. Potential buyers Beware, shipping will be pricey do to size and weight, I will do my best to keep cost down. I will also deliver within a 150 mile radius of Jacksonville, FL. I do not know how much to ask, I have alot invested , please keep offers reasonable.
Baja for Sale
Upgrades
-Polished all the aluminum, no purple
-Esp 30.5cc Motor rencently installed 3 tanks
-ZRC Tall Billet intake
-Walbro 813 Accl. pump Carburetor
-Jet Pro Vs. 2 pipe
-HPI High performance clutch and spring, Just installed
-HPI Pinion Gear heat sink
-HPI Heavy Duty drive shafts
-Ramtech rear lower aluminum A arms
-Ramtech Shock tower
-TGN heavy duty rear shock springs
-Turtle Racing Turtle Brace
-Turtle Racing Turtle Bell -Steel
-DDM Billet Gas Cap
-Dark Soul Beadlocks
-Dark Soul Axle Extenders
-RC Screwz Stainless Bolt kit
-Wheel Bearing Kit
-DDM 4200 Promatch Battery Pack
-JR XS3 Radio, receiver, servos
-Futaba S3306 steering Servo with HPI Metal Gear Conversion
-Venom Fail Safe
-Outerwears Shock covers, pull start cover and prefilter
-Billet Brake Caliper
-Carbon Fiber Brake Pads
Custom Parts
-Higher Wing mount
-Aluminum Bumper
-Wind Shield
Extra Parts
-3 Battery Chargers, 1 stock, 1 custom made wall charger, and Hotbodies Micro charger
-Stock Radio Gear
-Stock Battery Pack
-Stock 23cc motor and carb runs well nothing wrong with it
-Spare front and rear plastic arms
-new spark plug
-Lots of bolts, nuts, e clips, cotterpins, all organized and boxed
-DDM Billet Starter paw, never got around to installing it.
-Spare front and rear shock springs, new rear complete rebuild kit
-Clutch Springs, 2 stock, 1 DDM High RPM spring
-New HPI Tie Rods
-Stock Drive Shafts
-Stock Manuals, and tools
-Spare Air filter
-Air filter Oil, Differential Oil, Shock Oil
-2 Sets of Rear tires stock
-CNR 23mm adapters for Proline 40 series
-2 Sets of 4 Proline 40 Series rims and tires, Moabs and Mulchers
-Commando Beadlocks set of 4, 2 wabash rims
-Stock Rear Wing
-Tool Box