Hello everyone.
Not so far we started a new custom project. There are a lot of inspirational movies on youtube, but the most of them apply to 1/10 - 1/8 scale, so the main reason why do we start is creating something really special and interesting. One of the most unique detail is the cantilever rear suspension and straight drive train.
Final result:
Technical specification:
1) 2WD
2) Motor - Turnigy Aerodrive SK3 149KV
3) ESC - Mamba monster 6s / Ezrun
MAX6
ESC (3-8S)
4) Batteries - 6s-8s LiPo
5) Chassis - aluminum milled on CNC
6) Skeleton - caprolon milled on CNC
7) Length - 810mm, width - 440mm, height - 280mm.
8) Ground clearance - min 65mm (back axle), 0-100mm (front axle).
9) Suspension travel - up to 120mm front, up to 200mm back.
We had a lot of experiments during this 6 months.
At the very beginning we created a full caprolon version with custom composite body.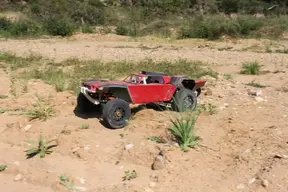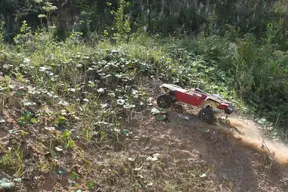 First ride video + suspension testing in real conditions.
After different tests we decided to change a little bit our concept for more performance and far better look. Of course we made it from scratch and almost nothing was taken from first version besides arrangement of motor and batteries.
What we have now: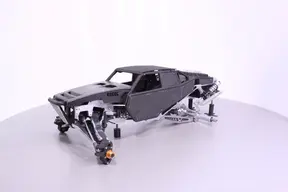 Assembling 360 video:
Suspension test:
Now car is ready for hard tests in different conditions from tarmac to dirt, sand, gravel etc.