LSF Plus Member
PLUS member
FLYWHEEL REMOVAL
There are a couple ways to remove your flywheel. One is to go out and buy a puller from the auto parts store.
-Or-
To make your own puller you will need the following:
1 - Piece of flat stock metal 1/8"-1/4" thick, 1 ½" wide, and 3" long.
2 – M6 X 45mm bolts with washers for oversized holes.
1 – ¼" X 3" standard bolt with nut. (Carriage shown in photos)
NOTE: Size of center bolt can be changed to what is available.
Drill three holes in the plate that match the distance of the holes on the flywheel. The holes do not have to be exact if you make them over sized.
Remove the center nut.
Install the ¼" bolt through the plate and install the nut on the back side. Install the two M6 bolts through the plate and into the flywheel. Holding the bolt underneath with a wrench tighten the bolt in to pull the flywheel off the shaft. The center bolt can also be filed to a point to keep the bolt centered on the shaft.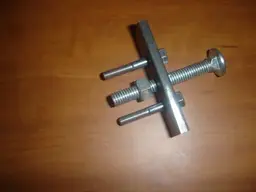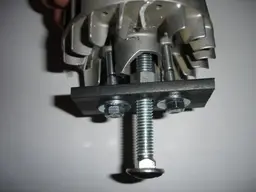 Last edited: