Well here goes. it has landed at my workplace today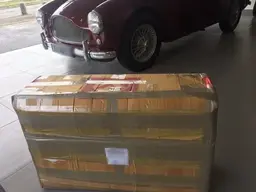 the box is alot larger than i was anticipating!!!!
i have been looking at one of these trucks ever since they came out and wanted to watch and see how the model was going to either be a flop or be everything it looked like it was going to be.
i was considering this or the losi super baja rey as i wanted something just for fun as i mainly race 1/8 & 1/5 buggy for my rc hobby. so i wanted something i could run at home or out and about.
i decided to go for the Traxxas as a bit of a change. I have never owned a Traxxas product but i have owned countless Losi/TLR cars before.
another reason i went for the Traxxas was the scale attention to detail that from the photos and videos i have watched seem super nice.
i normally buy used but there are not many about on the used market in the uk and when they do come up for sale they are asking silly prices, there is no way im paying that when you can buy new for £99 more lol
I will have to wait until later Tonight when i finish work before i can unpack it and dig in.
i will let you know what my first impressions are with lots of photos if i remember to take photos
Last edited: