Hello All,
I hope I'm posting this in the right section?
Any how the rebuild has started, I've dug out the Kraken and started to set up shop in a room downstairs much to the wife's pleasure.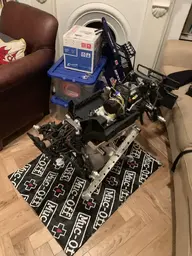 Parts arriving from DDM made me start plus a load of unfinished tasks. A new TR diff amongst them and DDM gears. The 20T was out of stock so I had to go with the 19T but I'm not bothered because it should have better low down torque which I need because it's a heavy beast.
To give a bit of history it started life as a HPI 5B SS but I turned it into a 5SC/ T to accommodate the cage, but there must be about 1% of the original HPI parts on it. I had to do few mods to keep the rear bumper and mud flaps. I'll be modding them further as the width is off because of the extended hubs and it looks funny.
Last edited: