I have owned the truck from new since the end of June 07, prior to this the Baja 5B is the only large scale I have owned.
Basically I have ran approx. 15 tanks at the most and a lot of the plastic parts have given up the ghost, in a moment you will see the up-grade process and why.
I really enjoy driving the truck and with the help from Kris at
www.danielspitstop.com.au
it should be a sure thing.
Engine mounts are the very first items that died, causing the engine to move which chewed out a lay shaft gear in no time, the large and small mounts where replaced with alloy up-grades (no pic at this stage).
The rear lower and upper arm set flexes like nobody business, which allows the camber turnbuckle to shave teeth from your spur gear, so these have been up-graded to alloy. Pictured below is a set of DPS (Daniels pit stop) upper arms, these arms are hot of the machine and have not received the DPS logo as I just had to have them before the weekend.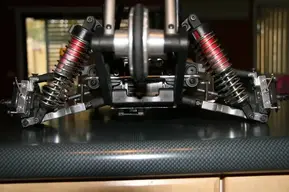 I noticed the plastic diff had twisted and the lug on the left-hand side that the bearing mounts on had snapped clean off, the entire diff was replaced with a full alloy up-grade.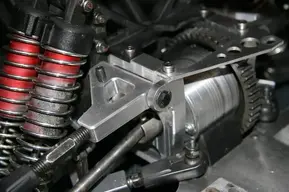 The plastic diff blocks that carry the diff have started to warp/bend and I suspect they are flexing, causing the lay shaft gear & diff gear to mesh poorly. Without hesitation these have been swapped over to alloy.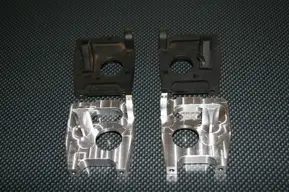 In regards to the spur gear and those 4 rubber cushions, I have ditched all that and replaced with the 48 tooth metal diff ring gear and an alloy gear mount.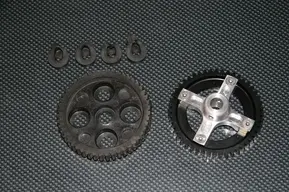 Brakes have always been an issue right from day one, below left is the original brake disc with the square drive completely rounded out & next to it is a disc with possibly 40 mins use and it's already showing signs of wear in the square drive. I have replaced with 4 wheel disc brakes and this should increase stopping power and the service life.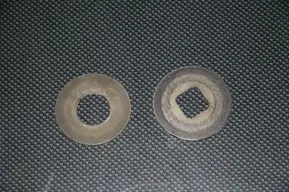 Over the next few weeks I plan on adding a few extra goodies and will continue this thread providing the wife doesn't kill me first.
For further info on DPS products email
[email protected]
Let me know your thoughts and feel free to make any suggestions.