i started this below but i wanted to put it in the proper part of the form.
like i started below i bought this car off e bay the other day. and it showed up today. im really quite impressed with this little treasure. its a farley stock fg sportsline with front setup modified for a single lay down shock. it came with a new unran mclaren body on it. till tomorrow and yes its kind of pink in some areas. it has a older zen 23cc raceport motor.
when it showed up first thing i did was rip out the recever and add a nomadio recever to the car. lol yes i had parts waiting for the car to get here
. 2nd mod was a outerwhere from DDM. it has a k&n on it for a air filter that im going to change out for a stock baja air filter. after checking the servos and chargeing the battery, i added a little fuel and pulled the rope a few times and it fired right up.
i did get to take it for a little ride but it was almost dark and i was playing on the road. not a good combo. so ill have to wait to tomorrow to see what shes really going to do. here is a few new pics that we took.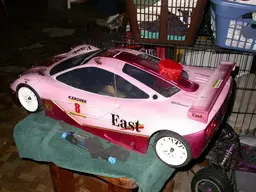 there is my puppy she still loves me even if i did bring home another car.
here is a couple with out the top on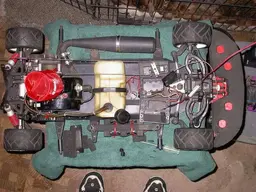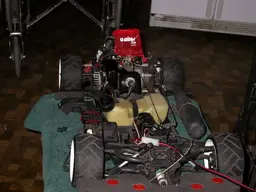 im going to make her screaming mean. if i have any motor problems im going to call my buddy doug aka (esp) and well get talking some rpms.
p.s. sorry guys im trying to resize the pics. they uploaded to photobucket and i have resized them. should be ok once photobucket updates the server. if not i ll redo them.
Last edited: