I was surprised to find the stock bumper was made from alloy. As cool as it looks it simply doesn't hold up to repeated bashings or in my case nose landings...lol
This is how mine looks after roughly 30 mins of running.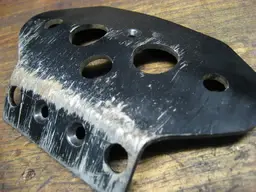 So I knocked up a quick and dirty plastic bumper out of some heavy duty pipe joiner to try out. The plastic seems perfect in that it is super tough yet is flexible and wont crack like regular PVC pipe. Hopefully it will provide enough cushioning in the event of an impact without busting anything else.