OK Guys, time for a new thread.
I have been working on this for some time now and I feel it's ready.
Below is my FG MT with 90% alloy up-grades completed to the rear end (special thanks to Daniels pit stop) and I felt it's now ready for more.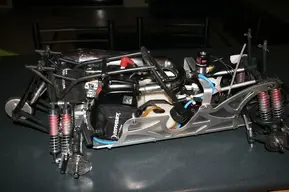 You will notice it has 4 wheel disc brakes so it stops well and I will be re installing the 2 speed so that should make it go well but it's still lacking.
:2guns: Nitrous Oxide (poor truck is thinking:helpsmilie: )
oooh yeah this is truly what I am talking about, basically I have had several runs with this system (not without frustration) and have had excellent results, its still in a tuning stage and possibly will be available soon.
Dry manifold set-up above:
The truck still needs a little love and care but it will be ready for the Thunder down under kurnell bash. It should have the Nitrous kit and the two speed + some other goodies.
hope you guys enjoy:shuriken: