LSF Plus Member
PLUS member
Though it was time I make myself a piston stopper. I tried doing it like I have seen before and found it much too vague. Thought I would elaborate as I did mine for those who may also want to make one. You can use pull start rope, tubing or other items to stop the piston before top dead center and myself and many of us have for some time now without any problems but, there is a slight chance you may bite off a small part of the tubing or rope when the piston goes by the ports. We also all know we can buy a piston stopper that is made just for the job but hey this is the chance to be creative and save some money.
You will need the following:
Spark plug
Dremel with cut off disk
File or you can use Dremel
Vise grip or a vise
Spark plug wrench
(1) 5mm x 22mm or longer allen bolt. (I used an exhaust bolt.)
(1) 5mm nut
(3) Washers
#1
Find yourself a new or old spark.
#2
Cut off the side electrode from the bottom of the plug.
#3
We need to remove the top seal from the plug. With the cut off wheel grind all the way around the top of the plug and through the metal case until you hit the ceramic insulator. This will allow the removal of the top seal. The ceramic insulator will now be flush with the sides of the metal case.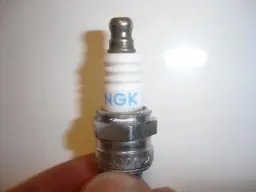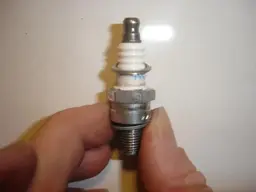 #4
Now clamp your vise grip on or install the plug in a vise so that there is enough pressure that the insulator will not spin. Take your plug wrench and twist back and forth until the insulator breaks free from the metal case.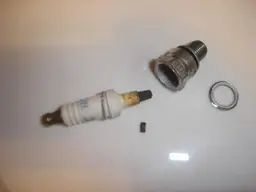 #5
File or Dremel the bottom of the sleeve where the side electrode was until it is flat. Now take your bolt, washers and nut and assemble your stopper. Use the proper amount of washers for the stopper to hit your piston.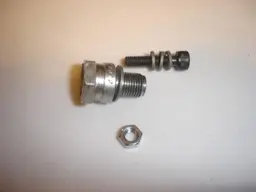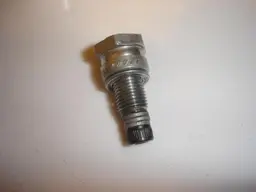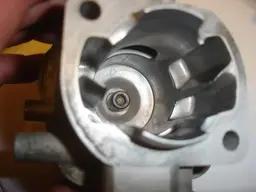 Spark plug terms:
Last edited: