I will admit to 'Rc Gazing' and I'm sure other fifth-scalers will admit to it. Quite often I would just sit and gaze, enraptured, at my fifth-scale machine in my garage 'wrenching space.'
For me gazing at my Redcat Rampage XR styled as a 1920s vintage racer is the most enjoyable thing--almost intimate. I reserve time after work to spend time with that machine. I can hug the bad thing. Lol.
I even suspect my wife experiences moments of jealousy judging from the way she makes snide remarks about the time I spend "...with my toys."
So guys, it's time to 'fess up.' If you too have a bromance with your fifth-scale RC, respond with a 'Yop.'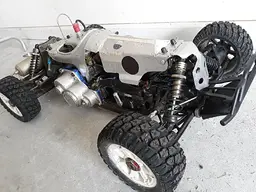 Last edited: