Here a thread continuing in the bike
so theres a reason he wants rid of it, probable reason is its costing him craploads on parts,
He is a truck driver and also drives for usps… has no time for his bikes anymore and little time to tinker with rcs
or he cant find the parts to finish it,
Seems to be parts from reliable sources and plenty of em
you have nowhere to keep it unless yer gonna drag it up from the basement every time ya want it out
Basement thing gonna be temporary, until the shed/studio is built
you have nowhere to ride it,
I got a place where I see people ride their bikes I'll learn to ride
you've never ridden a bike you say,
how tall are you ? its an rm 80, they aint very big,
I'm around 5'6 rn… and no I've not ridden yet, but I gotta learn
Moral of the story to all the older folks here. We been down the path junkie is at in life. He will yes us to death and follow nothing we say.

Have at it kid well sign your body cast when you land in one
I will wear all protective stuff and have sense when riding
I feel like an opportunity like this won't just present itself again… I'm trading the rampage… my dad or mom won't let me get a bike new or anything like that… but this is an exception BC I'm not really paying money for it and it's not a huge loss if it doesn't work out for me. It's gonna need some work, but I am glad you guys are here to help me along with that
.
I am getting it this weekend. I will keep you all updated.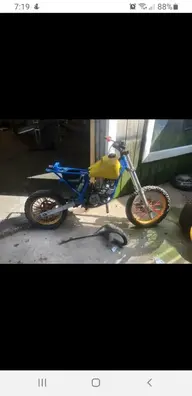 Need a seat and cover but I will keep it kinda diavo style and prob will just get fenders
I have more pics tmrw