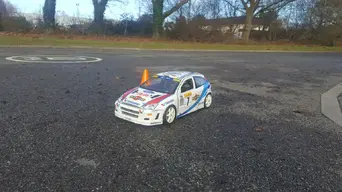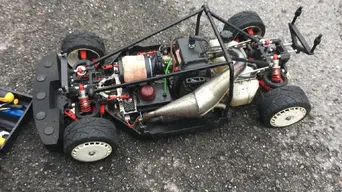 Hi ,
Ive been a member on there for a while having had a couple of Fgs in the past as well as a 5B.
My last FG was actually sold to Renbar and still looks like its getting lots of upgrades and new parts on a regular basis!
I have always wanted an Mcd rally after seeing the promo videos online as well as the ads in the Magazines over the years.
At the start of the year i found myself in a position to buy another 1.5 scale but was keen to make sure i bought what i wanted. The Fgs are great fun, but i really needed to try a Rally. A losi 5ive T was tempting, but again i knew i`d regret not buying an Mcd.
One came up and after speaking with the owner, i actually took away two cars as he had several 5th scales in his fleet. One an earlier Rally and the other a brand new Proline Sport. Allegedly, it was the last one that King Cobra had had in stock when it was purchased. I set about swapping all the bits over into the Proline chassis.
Since then, i have spoken to a few people around the world who also run these cars, and despite their age, there are still parts available for them. Only the Body shells and Wheels/Tyres are a little tricky to get hold of.
Since January, i have pretty much upgraded the car to Competition spec with Alloy radio tray, Centre brace and steering plate, Roll Bars, Alloy Fuel tank Mounts and the Lower shock forks. The Gear carrier is next on the list as well as a centre Lsd.
These are fantastic fun, especially in damp or greasy conditions. I`m currently running a 23cc with a
990
carb but i`m looking at a 26cc in the near future.
Here are some pics and a video link
Ant