Due to the technical nature of my local race track I sometimes found the amount of steering I had available to be somewhat lacking so set about doing a few mods to try and help increase it a little bit.
Thanks to the advise of dgav407 the first thing I did was to replace the front diff with 100,000wt Kyosho diff oil. This created a limited slip effect which creates a bit more over steer allowing me to flick the rear end out if necessary to whip around the tight hairpin corners.
I also noticed a few points on the stock setup which limited the amount of steering travel available so went about doing a few minor mods to improve it.
There are 3 things that limit steering travel. One is the steering hubs themselves with the 2 prongs that protrude on either side which touch the upper and lower arms. Problem for me was there were two other things getting in the way well before this limit was reached and they were.
* The steering link rose joints.
* The lower diff case.
By carefully removing some of the material in the steering link rose joint I was able to reach full travel so that the hub limiters now could touch the upper and lower arms as intended.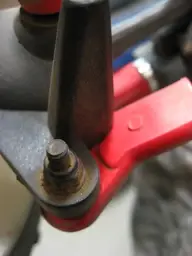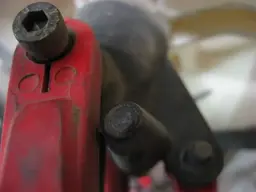 In doing so I noticed one of the rose joints on the servo saver side touched the diff case so I had to remove a tiny amount of material on the case so the rose joint cleared the case without binding.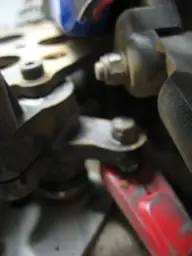 These simple mods have given me about 15% more steering than I had before making the buggy much easier to drive on the track so I am very happy with the results.