Hi! I recently bought a FG Monstertruck and I have plans of buying a new pipe to it. I love the sound and looks of the DDM Dominator pipe so I therefore think I will buy just that one. However, after reading in this forum I have notice that there are a couples of installation issues regarding this pipe. As I have seen there are two varieties of the pipe, a torque and a high speed pipe. In the beginning I was going to choose the tourqe pipe but it is this that several people seems to have had trouble with regarding the installation. I therefore think I will choose the middle to high speed pipe instead.
1) Does the high speed pipe have the same problems when it comes to installation as the tourqe pipe? (I mostly thinks about the problems connected to the twisted roll cage in front of the cylinder, (see link)
https://www.largescaleforums.com/forum/showthread.php?t=378
2) Is it impossible to have the gear protection (see picture below) with this pipe?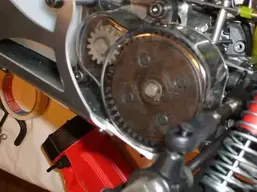 Thanks!
Last edited: