Well I got to thinking about some sand drags this year at Silver lake and on some pavement.With all the HP these motors are making and after driving mine on the road I made this wheelie bar this is the first version that I made now Im working on a pc for the top to make it adjustable and maybee even add a spring to it.
Since nobody has made one yet I though I would show it off a little.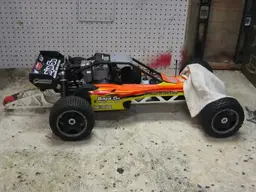 The ride height is set pretty low in the pics and will go up alot but I cant see needing to go down any more.But I think adjustable height would be the best way to go.
Oh ya forgot to mention the Size its 11in long and is made from 6061 aluminum and its 5mm thick well its 4mm now after flating the surfaces and polishing.
Last edited: