As part of my MT up-grade, I have decided to up-grade some of the most recently up-graded parts. Hope your still with me and yes it does sound odd but check this out!
Below is a pair of prototype lower rear A arms from Danielspitstop, they are fully hinged with stainless steel pins and plastic bushes. The reason for this is the stock arms use rod ends/ rose joints to attach the arm to the chassis & when you make toe-in / toe-out adjustments the center distance between the two joints gets longer or shorter in length depending on what way you go, this causes the arm to bind slightly and it also wears the ball joint and in the end it usually gets sloppy or as we all know it's a weak point any way. These arms pictured below have 2 degrees toe-in and 2 degrees castor and let me say they look tough.
Below is a picture of that heavy duty hinge I'm talkin about.
This is what it looks like all assembled.... well just about assembled anyway.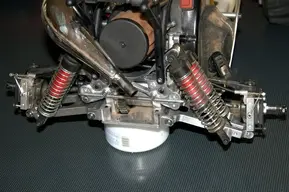 I will give these things a good.... and I mean good work out to see how they hold up.
For more info regarding these bullet proof arms you can contact:
[email protected]