I ordered mine form PowerSlide and I have to say the whole experience was great. Mike was a gun with answering any Q's I had (and I had a few let me tell you) not to mention the insane delivery times (he sent it 9pm and I had it by 8:30am the next day) As a bonus he even threw in a few extra goodies so thanks mate. As I told him if it wasn't for his support and good business practices I never would have considered buying a MCD.
If you have never got up close and personal with a Baja1000 before then your in for a surprise. I thought I'd know what to expect as I have studied every online photo and diagram the web has to offer but like they say it's a completely different story in the flesh. Fark this thing is big!!! I thought the 5b was a monster when I opened that box for the first time but this is a whole other level. Seriously you could bath a small child in the lid of the MCD. Im beginning to wonder if they will even allow it to go on the track due to its size. Now wouldn't that be the ultimate irony.
After I got over the shock of its size the first thing you notice is just how solid the MCD feels. People say it has too much plastic but when you actually hold one you realize just how well built these are. There is absolutely no play what so ever in the axels, arms, suspension or steering. Equally impressive is the lack of lash in the drive train, especially for a 4WD. You also receive a bag of spares including spare arms, hubs, gears and ball ends which is a welcome relief and should hopefully should see you through the odd prang or two before having to fork out more money on the thing. Not so impressive however is the lack of any tools to take the thing apart with but I guess at this level it is assumed you are already well equipped in that department. I also found the fuel cap very flimsy and reminds me more of a soft drink cap than a fuel cap but I guess that can be changed if it causes me any grief.
Finally just a couple more pics before I paint it all up. As info on these is hard to come by I am happy to answer any Q's you might have if I can so give me a yell if you have any.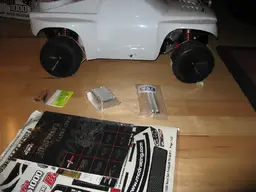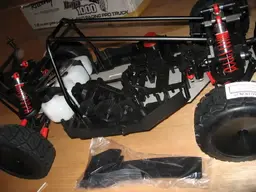 Last edited: