Finished up the build over the weekend. Fuelie 30.5cc motor, stock exhaust canister, several FID/AreaRC upgrades. Went with the stock clutch bell and 20T pinion. The only thing I'm a bit peeved with is the RCMK filter I got from DDM doesn't fit the body without the cut out. I had to end up cutting the body. Personally I think it looks terrible. It looks especially bad with that red outer wears filter. Might have to grab a black one. The fitment issue might be due to the bigger head on the 30.5cc vs. the stock 23cc or maybe the Walbro 997 carb is larger as well?
Just wired up the kill switch and everything works as it should. That Hi-tec throttle/brake servo might not be up to the job. It slows down sometimes when applying brakes or seems to struggle. I checked all the cables and the tensions. Everything is perfectly smooth. I built this entire car from scratch. I purchased it as a roller with basically nothing but the diffs and some suspension parts bolted to it. First conversion was to Electric with the Kershaw kit. I didn't like the run times so now I've built it back up to gas. It was a fun build and at least I get to use the parts I want. The inner and outer diff housings are next on the upgrade list. But for now, hopefully I can get some runs out of it without issue. I've heard the diff housings need to be upgraded soon.
Put in 91 octane and Redline 2 stroke synthetic Racing oil 25:1 and ran it through a full 870ml tank. Mostly low idle.
Here's some pics.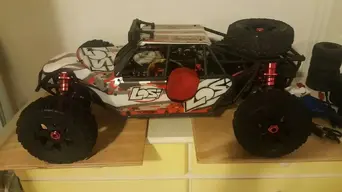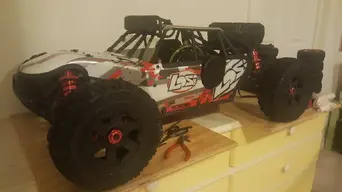 Last edited: