A very rare and hard to find Large-scale Rc...
Mcd RACING PROLINE RALLY Comp Mitsubishi Evo 7 with brand new painted body. (never run)
Originally released in the mid to late 00s, these 4wd rally cars are becoming hard to find, especially in this spec and condition.
This started out as a Sport Proline but has been upgraded with the Comp spec parts from the Mcd catalogue as well as a few upgrades from the V4/rr5 platform
Comp chassis (no marks underneath)
Comp radio tray, brace and diff carriers
Kcr Alloy Gear Carrier
Sway bars front and rear
Alloy Gears
Alloy fuel tank mounts
Rare Samba 'F1' style pipe
V4 Air filter
V4 twin vented brake disc kit
Rr5 alloy Inlet venturi upgrade
Rare inner chassis cover
V4 Centre lsd - brilliant upgrade
Hitec servos
Cy 23cc Engine with good compression
668
Carb
Dynamite Killswitch
All that's required will be a receiver, transmitter and fuel
The body has been freshly painted but NEVER run on the car. It will need some windows cutting out before running. Frustratingly there is some decal lift in places due to the age the decals were when I put the body together last summer, but nothing major. A little bit of pritt stick would resolve this.
Im selling the car with 3 sets of wheels
1 set of Gravel Tyres
1 set of Slicks
1 set of white spot Mcd tyres
I'll also throw in some spares that I have with the car including the original centre spool, original alloy chassis, and nip roll bar/cage and the original plastic gears.
I have a mountain of spares to go with the car. I also have a focus body which I was going to sell separately but could be tempted to sell with the car for the right price.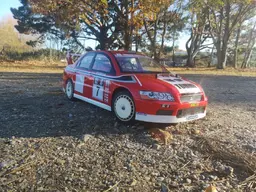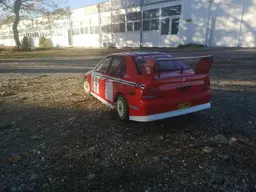 The car hardly sees the tarmac anymore as I mostly run my FG.
Looking to sell to fund an FG f1 purchase. I would consider a trade for the right car.
No silly offers. I will keep unless it goes for the right money
These normally sell for circa £600-650 when they do sell on ebay so I'd be hoping for at least that
I can ship. Within the UK will be £20.00
Overseas is possible but it won't be cheap given the size
There are videos of this car on YouTube if you wish to see running